Posted by Keith Peters on Jul 30th 2017
We have added Old Point Loma Lighthouse to our collection of California lighthouses. This lighthouse sits above the entrance to the San Diego harbor. Old Point Loma Lighthouse is one of the original eight lighthouses built on the west coast. Completed in 1854 with it's light at 462 feet above sea level, it was the highest lighthouse in the nation. It was built in the Cape Code style consisting of a one-and-a-half story home with a central spiral staircase up to the light.

Teresa took this photograph from the top of the spiral staircase. The vertical lines of the wainscoting on the inner stairway walls draw your eyes to the shaft of sunlight hitting the blue carpet at the bottom of the staircase.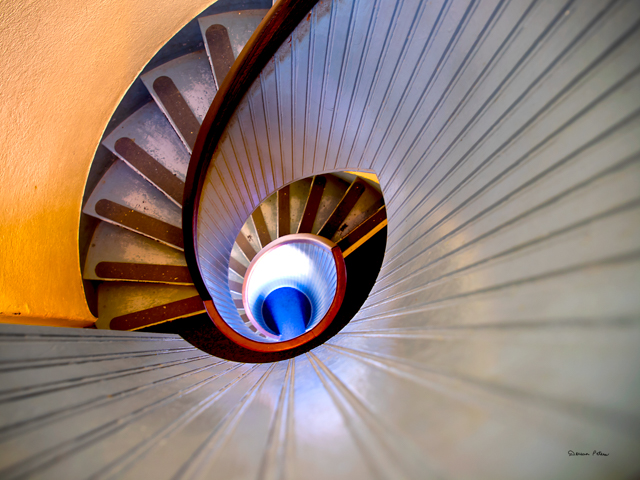 If you visit other lighthouses on the Califromia coast line you will notice they are not on high hills but rather closer to the water. This is due to the lessons learned at Old Point Loma Lighthouse. Turns out building the lighthouse high on the hill was not the best idea as the light was often obscured by fog and low clouds. The lighthouse was decommissioned on March 23, 1891, and the operation moved down the hill to New Point Loma Lighthouse.