Posted by Teresa Peters on Jul 8th 2017
We recently returned from Lone Rock Beach at Lake Powell. The beach gets it's name from the solitary rock which is really the top of a submerged butte located in Wahweep Bay.
This beach is one of our favorite locations as it is one of the few places in Glen Canyon Recreation Area where you can drive and camp right at the water's edge.
On the day we visited the lake was quiet with only a few people around. Toward evening the winds died down allowing the lake to be very still and we were able to capture this incredible photograph of the reflection of Lone Rock, the cliffs and clouds.
As we were camping at the beach we were able to setup our cameras and wait to see what would happen as the sun started to set.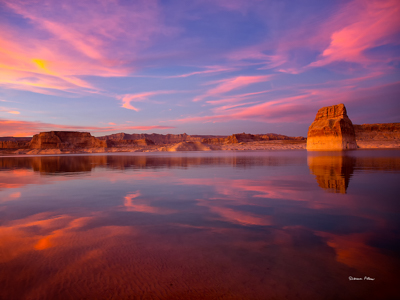 What a difference a couple hours can make! The beach is on the west side of the bay putting the glow from the setting sun on the face of Lone Rock. With some high clouds and the water still very calm, we were able to capture one of the most memorable sunsets we have seen at this location.
I love the fact that you can see the ripples in the sand in the foreground of this photograph.
If you would like to own one of these images, simply click on the image and you will be taken to our online gallery.