Posted by Teresa Peters on Jul 15th 2017
When one thinks of Arizona, waterfalls are not the first thing that comes to mind. However, Arizona is home to several spectacular waterfalls, one of which is Grand Falls. Grand Falls lives up to its name with a total fall of 185 feet cascading over several steps. This is taller than Niagrara Falls!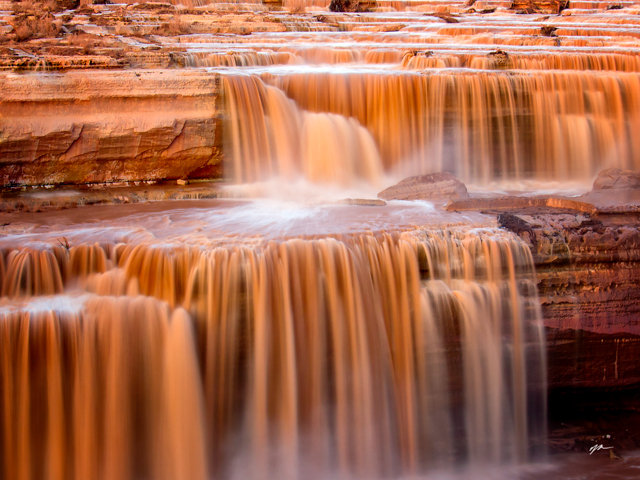 Grand Falls is fed by snow melt from the White Mountains via the Little Colorado River, thus it only runs during a brief time in March and April and during summer storms.
We were there in late March and the falls were at peak flow. When the water is flowing it picks up the dust from the river bed built up over the dry season. This dust is mixed into the water giving the water a light brown color, for this reason the falls are sometimes called the Chocolate Falls.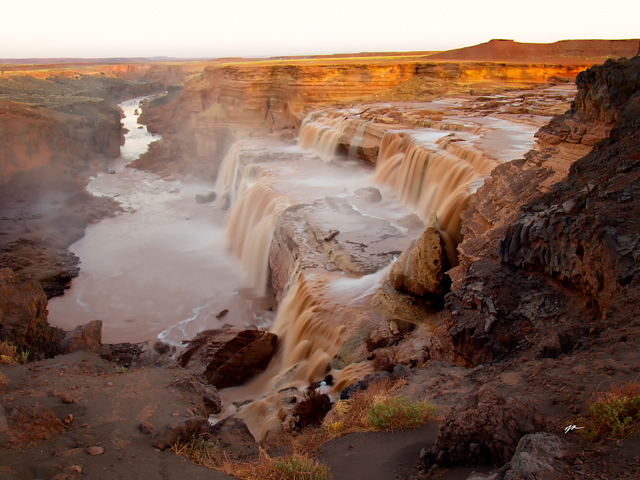 Grand Falls was formed when lava from nearby Merriam Crater flowed into the Little Colorado River creating a lava dam and the river had to reroute itself. This explains the hard 90 degree right hand turn at the base of the falls which allowed us to take this wonderful sunrise photograph of the falls and Little Colorado River.
If you would like to purchase either of these images, simply click on the image to be taken to our gallery.