Posted by Keith Peters on Jan 24th 2022
Coal Mine Canyon (Honoo Ji) is one of the most beautiful places in the Southwest that you have never heard of. This canyon is a hybrid of the Grand Canyon and the Painted Desert. It is not as deep as the Grand Canyon, but the colors of the canyon walls make up for that fact. Coal Mine Canyon is six miles long and six miles wide at its widest point and has an average depth of 800 feet.
The canyon is made up of a varied array of Spires, Hoodoos, and fins with a wide variety of colors, and this is why the Navajo named it Honoo Ji, meaning saw-toothed. The canyon is a study in geology; the top of the spires are made up of Dakota sandstone on top of Entrada Formation bands, containing white, black, grey, and red-colored rock. These formations are not unique to Coal Mine Canyon, but their proximity to each other gives the canyon its signature color bands not seen elsewhere.
If it is so special, why haven't I heard of it?
Coal Mine Canyon is part of the Navajo Nation and the Hopi Reservation. The canyon's rim is on Navajo land, while the interior is part of the Hopi Reservation. Unlike most of the other famous canyons, such as the Grand Canyon, Bryce, and Zion, this canyon is not on any map, there are no road signs to guide you, and there are no services. It is only accessible by high clearance vehicles via an unmarked dirt road. These factors make it somewhat unknown and add to this place's beauty. When we visited, we had the whole area to ourselves. There are no railings, no sidewalks, nothing to get between you and the grandeur of this place.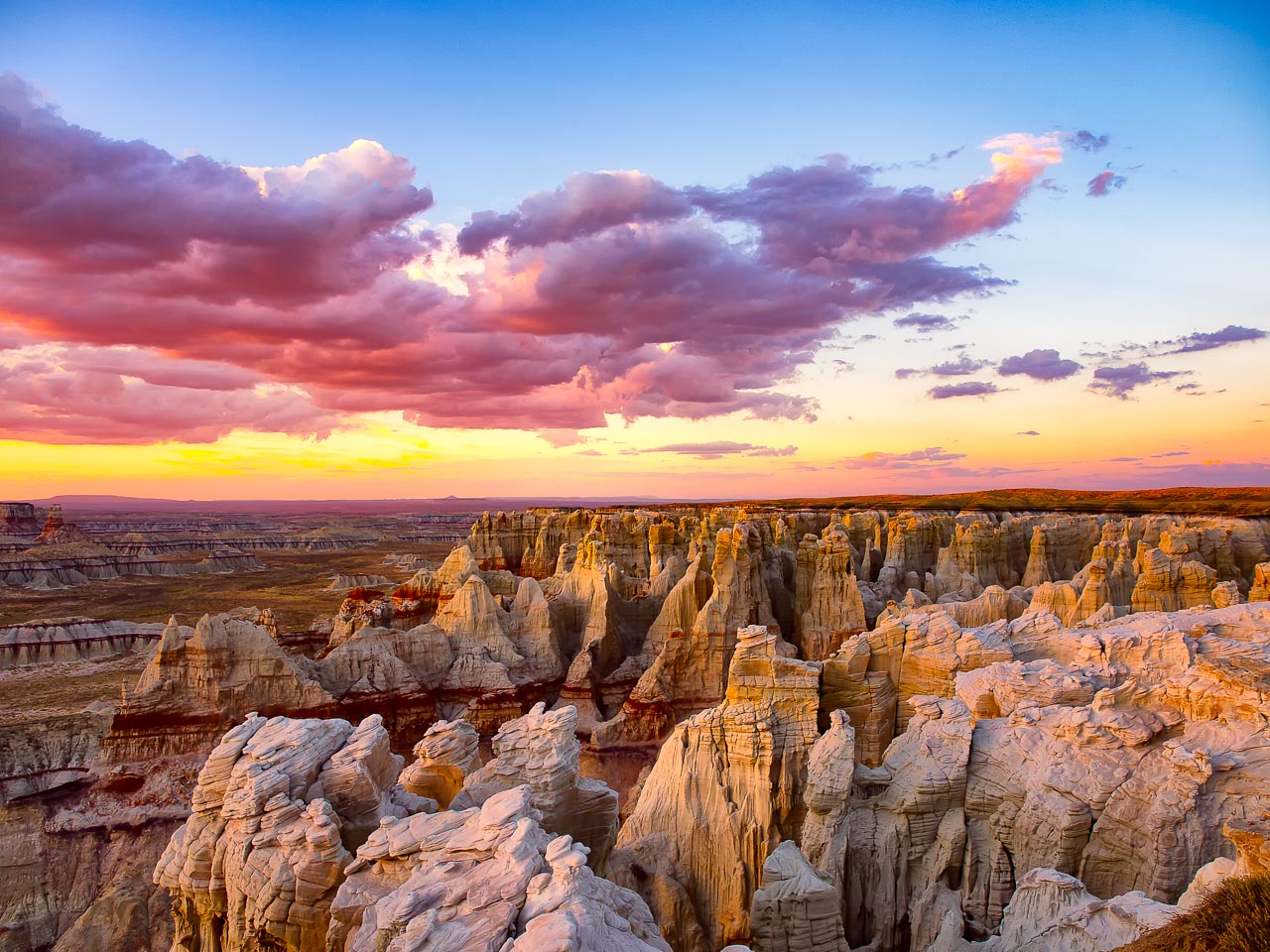 We arrived mid-afternoon, which gave us time to explore the area and pick our favorite location to set up our shot. Photographing canyons always has its challenges, and you must always be mindful of shadows and areas of high contrast. This is particularly true here with the many Hoodoos within the canyon. This photograph was taken at sunset, using clouds as a natural filter. The filtered light allowed the canyon walls to pick up the setting sun's warm glow and the reds in the clouds.
Getting There
Take Highway 264 east from Tuba City, AZ; once on Highway 264, set your odometer to zero and head out. Around the 15 mile point, start looking for mile marker 337 and a windmill on your left. You want to take the road that leads past the windmill, as this is the route to the canyon overlook. This is a high clearance dirt road, simply follow this road for half a mile; after traveling down a steep off-camber section, the canyon will appear.