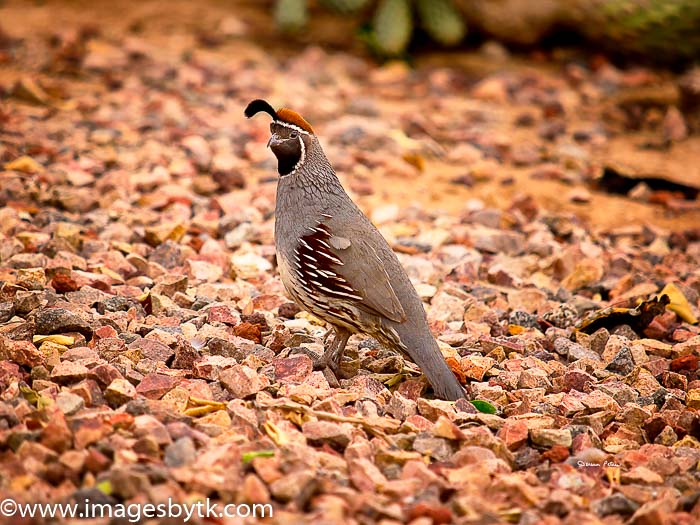 1344 Quail Posing For Me - Arizona
$25.00
It seems that everyone loves quail. No matter who I talk to about them, that person becomes excited.

Last spring I saw my friend Georgia post on Facebook a picture of eight quail eggs that had been laid in a hanging flower basket at her home. Of course I asked her if I could come over and photograph them. Georgia and her husband Marshall feel so blessed that the quail have returned to this nest for ten years to lay their eggs. I also discovered that first day that they feed the quail every morning in their backyard which gave me so many opportunities to photograph them. Georgia is right - it is a touch of heaven. What a wonderful way to start your day!


1336 Mama Quail In Flower Basket Nest - Arizona
$25.00
Then began a very fun adventure. I went as often as I could to photograph the eggs and quail. Every time I went more eggs had been laid. The hen usually lays 10 to 12 eggs, we were both so shocked and surprised when the mother hen ended up laying 18 eggs which took 12 days. Once the last egg is laid gestation starts which is 21 - 23 days.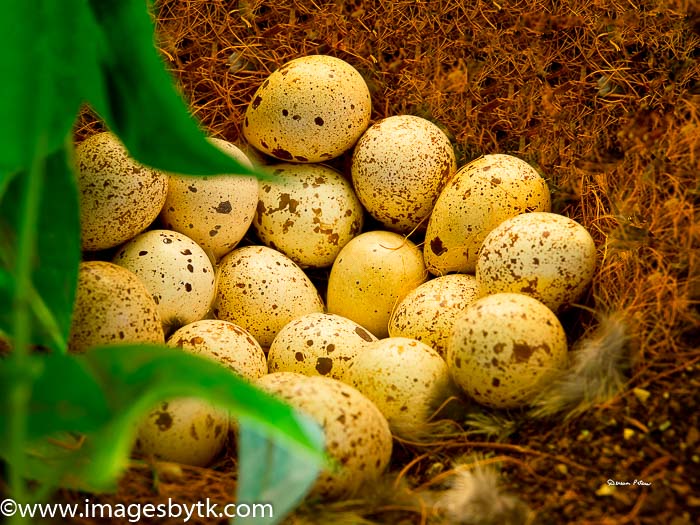 1328 Eighteen Quail Eggs - Arizona
$25.00
In early April the eggs all hatched. It was a stormy windy evening. I wasn't able to get there in time before parents and babes all left. The parents probably wanted to get the chicks out of the wind as soon as possible. The young family did not return so I never got to photograph them.

Just before her eggs hatch, the female quail calls to the chicks who cheep to each other from inside the eggs. The eggs hatch in synchrony. The chicks are precocial, leaving the nest with their parents within hours of hatching.

Georgia and my neighbor Bob saved the day. Georgia sent me this photograph of the babies about to leave their nest in a previous year. Bob was trimming a plant in a pot at his home and discovered these baby quail that had just hatched.
If you would like one of these photographs of the baby chicks please call Teresa at (623) 203-8223 since they are not on our website or reply to this newsletter. You can see sizes, wall decor styles and pricing here.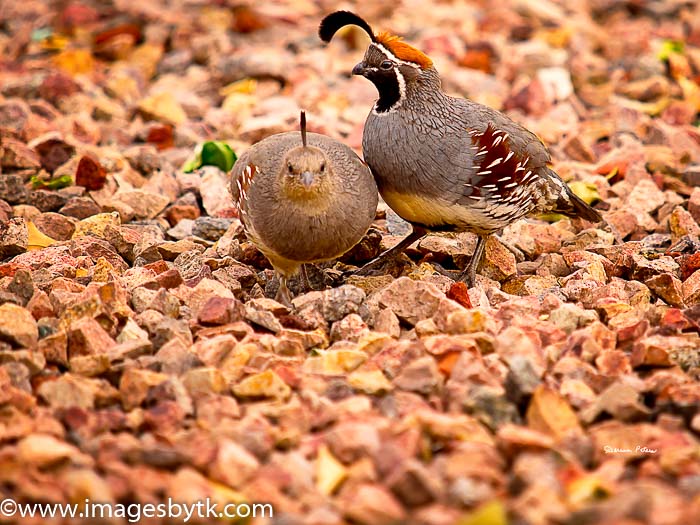 1342 Male and Female Quail - Arizona
$25.00
Gambels' Quail mate for life! Both adults perform all parenting duties selecting nesting sites, gestating the eggs ( the father will finish gestating if something happens to the mother), and teaching their young how to be quail.

Soon the season for baby quail will once again be here, I can't wait!

Written by Teresa Peters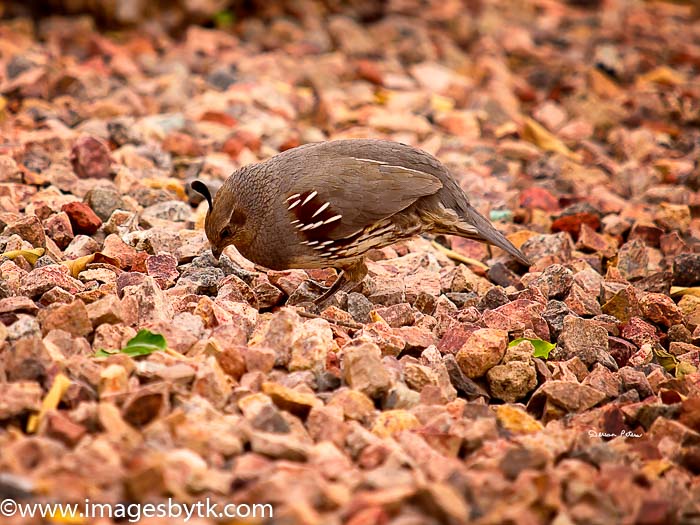 1346 Breakfast In Beauty - Arizona
$0.00
| | |
| --- | --- |
| | From an artist's perspective there is no greater joy than seeing your art on display in someone's home or office. |
We love T&K Images! We own eighteen of their photographs and we are thrilled with each of them!

Viga and Brian - Surprise, AZ