Posted by Keith Peters on Jan 6th 2019
An offer you can't refuse...
Have you had your eye on one or more of our photographs? If this is true for you we'd like to make you an offer we hope you can't refuse.
For the next 14 days, through January 21st we'd like to offer you 50% off on any one photograph from our collection. No restrictions, any size or display option you choose! Are you interested in more than one photograph? We want to offer you 25% off on any other photographs you chose. This is the best pricing we have ever offered.
There's actually a method to our madness. Over 80% of all the art we sell come from people that have seen our art on display at someone's home or business. For this reason, we'd love to make it easy for you to display the artwork of your choice in a prominent place in your home or business. As a sign of our appreciation, we'll also share our generous referral bonuses with you should your friends decide they'd also like our artwork in their home or business.
To take advantage of this offer you can use both discounts right on our website!. Use this 50% off discount code L8F8LDS1BAL78 for your first photograph. For all other photographs at 25% off use this discount code DWQRBEJW0 Both are good for 14 days on our website www.imagesbyTK.com, through January 21st or feel free to give us a call at (623) 203-8223 and we'll be happy to help you make your selections.
Thank you for your interest in T&K Images,
Teresa and Keith
Is there anyone you know who may be interested in this offer? Please feel free to forward this information to them.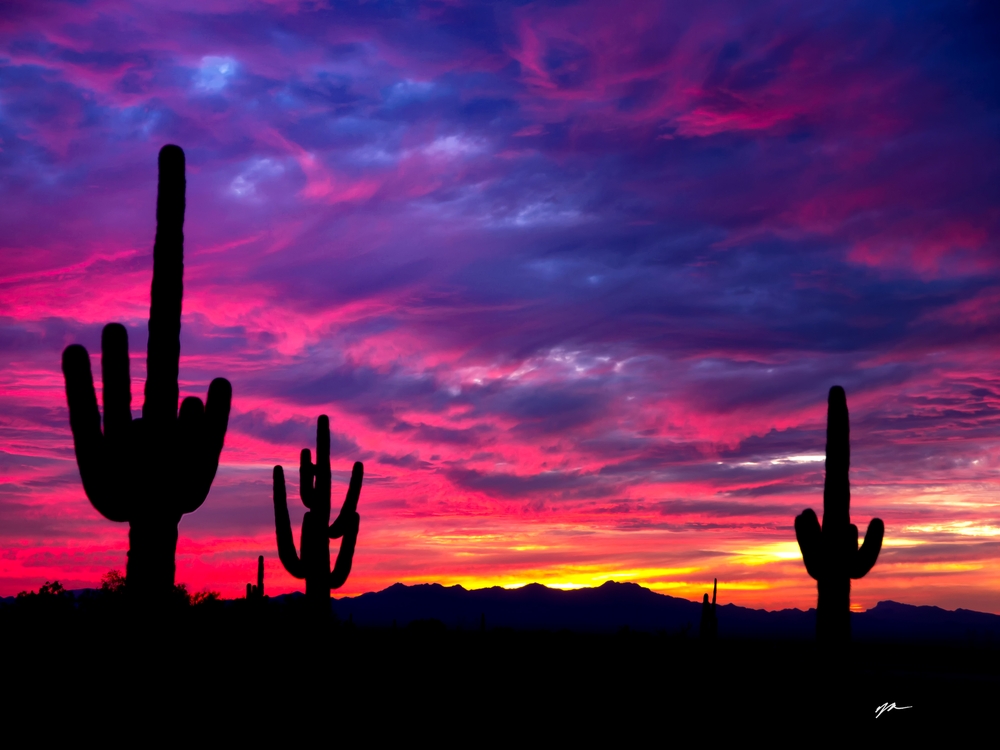 Sunsets are incredibly colorful and spectacular in the Arizona desert! This is due to three factors:
1) The openness of our sky - when you are at the right location you have an unimpeded view of the sky and horizon. This was the case for these two photographs - we were at the apex of the rise of a hill, resulting in the desert dropping away from us as we took our photographs toward the horizon.
2) The "Dry Heat" that this area is known for is wonderful since moisture in the air will diffuse the light and dull the colors.
3) We went out at sunset so many times looking for this third most important contributing factor - incredible clouds. So often it looks hopeful only to have the sun stay hidden behind a solid mass of clouds or to have the clouds disipate into nothing. In this case after all our efforts there were very high, thin filmy cirrus clouds at different altitudes that resulted in a great mix of colors.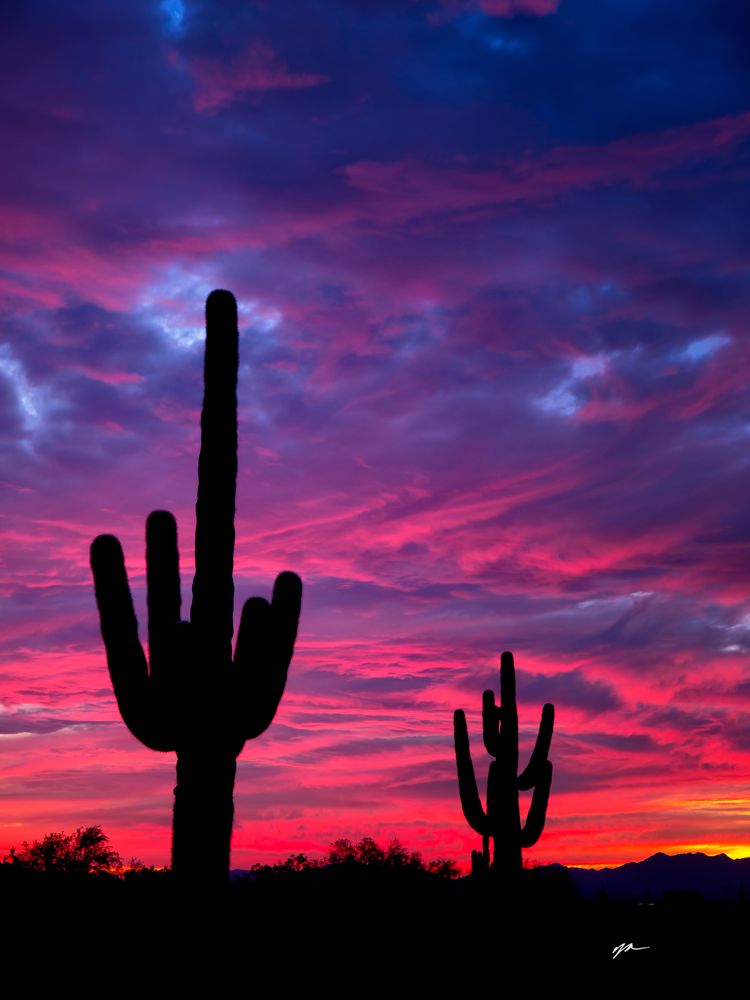 If you wish to see our display option choices, sizes and pricing please click on the name of any photograph above. Please call Teresa or Keith at (623) 203-8223 if you have any questions or you need any other information.